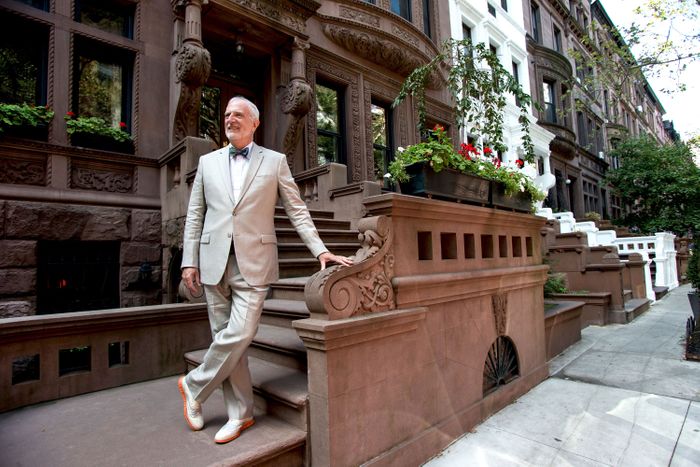 Frederick Peters sold Warburg, the last midsize firm of its kind, to Coldwell Banker.
Photo: Warburg Realty
Not so long ago, if you wanted to buy a nice prewar apartment in one of the better buildings on Fifth or Park, Central Park West, or Riverside Drive, you'd ask around for names and someone in your social circle would refer you to Alice Mason, Stribling, Edward Lee Cave, Warburg, or one of the dozen or so other exclusive independent brokerages that handled sales in all the best buildings in Manhattan. Before the big corporate firms, before Compass, before the Fredrik Eklunds and the Ryan Serhants and the TikTok stars, Manhattan's high-end market was a genteel, insular world dominated by that array of small outfits, some of whom were solo operators whose chief M.O. was the dinner party.
But Alice Mason and Edward Lee Cave shut down their respective firms in 2009, Stribling sold to Compass in 2019, and earlier this month Frederick Peters, the chief executive of Warburg, announced that his firm would soon be Coldwell Banker Warburg. With 120 agents, it was the last independent local company of its size, and as such had been for many years a prime acquisition target for a company like Realogy, which owns not only Coldwell Banker but also Corcoran and Sotheby's. At this point, all the Manhattan firms are behemoths — Douglas Elliman, Compass, Brown Harris Stevens — along with a few holdout boutiques, with well under 100 agents (most with less than 50, and some with less than 10). Fox Residential, Jed Garfield, Adam Modlin, Kleier Residential, Donna Olshan, Sloane Square and a handful of others remain. Real estate still has characters, but the slice of the high-end market controlled by their small, bespoke firms has very much dwindled. A highly experienced team, a spectacular network, and relatively low overhead is still a winning formula, but it's no longer the kind of business where knowledge of a particular Rosario Candela floor plan is considered proprietary information.
"The world has changed, and we have entered in the last five or six years a very different and far more capital-intensive marketplace," said Peters, who has been described as "one of the last in the generation of gentleman brokers." He became a real-estate agent in 1980, remaining in his music theory Ph.D. program at City University. "I thought I could do both. Then real estate ate my life." In 1991, Peters bought the Manhattan branch of Albert B. Ashforth, the more-than-hundred-year-old brokerage where he'd been a manager and renamed it Ashforth Warburg (Warburg was his grandmother's maiden name). Eventually he dropped the Ashforth.
The decision to sell, said Peters, who will remain at the helm of the new firm, was not financial, although it had become increasingly difficult to stay competitive as a midsize firm. "Like anyone who is a decent agency, we've had a fabulous year. But that doesn't mean I was ever going to have the kind of capital that was going to allow my agents to compete with the big boys. I can't substantially upgrade my website every year. I can't respond to market trends by tweaking it so you have more of a seller focus on the site, which is one of the things that Coldwell Banker is doing," he said. "It's a different business."
These days, putting a video tour and a 3-D walk-through of an apartment listing up on StreetEasy is, arguably, a better way to make a sale than throwing a dinner party for 60 — a technique used to great success by Alice Mason, the legendary broker who managed to get people who were not in the Social Register into social buildings. (She got Marilyn Monroe two different apartments.) That said, the dinner party was a lot more fun and still has its fans, among them A. Laurance "Larry" Kaiser IV, formerly of Key-Ventures, now of Berkshire Hathaway (he sold the small firm he'd founded with his stepmother a few years ago), who has been in the business since 1968. "Being as I am the old man of real estate, people ask me, 'How did you get your customers? Those big sales?' I say, 'Have a dinner party, invite some lovely people, have wonderful conversation, accept the bills,'" Kaiser advised. Still, he conceded, times had changed. "Just reading the society columns and going to deb parties is not going to get you far."
When Diane Ramirez, the co-founder of Halstead, started working as a broker in the late 1970s, the brokerages were niche, and so were the buyers. "Everyone had a sphere of influence. Stribling — I mean this in the most complimentary way —…