Silver futures for July 2021 delivery closed at $28.04 an ounce on Jun 14, gaining 5% so far this year. Annual inflation rate in the United States advanced to 5% in May 2021 from 4.2% in April — above market expectation of 4.7%. Notably, this marked the highest level since August 2008, reflecting the ongoing economic recovery and low base effects due to the pandemic last year.
So far this year, silver prices have averaged around $26.60 per ounce. According to the Silver Institute, silver prices will average around $27.30 this year, registering an impressive 33% year-over-year increase. It anticipates silver prices to reach $32 later in the year. Notably, earlier in February, the white metal had peaked to $31 an ounce — crossing the $30 threshold for the first time since 2013.
Factors Likely to Drive the Silver Rally
Silver's performance will primarily be driven by demand and supply imbalance. The white metal is benefiting from its safe haven demand, varied industrial use and growing focus on silver-consuming green energy applications. The Silver Institute projects silver demand to grow 15% this year. Major part of the increase will be driven by investment demand, which is expected to go up 26% to 252.8 million ounces (Moz) — the highest level since 2015.
Industrial demand is expected to log year-over-year growth of 8% and hit a record high of 524 Moz, courtesy of reopening of economies and investment in green energy solutions. Surging sales of electric vehicles will also support silver demand. Jewelry fabrication is forecast to increase 24% in 2021 to 184.4 Moz driven by an economic recovery.
Meanwhile, total silver supply is expected to be up 8% this year to 1,056.3 Moz. After being severely impacted by coronavirus-related mine closures last year, mine production is expected to bounce back in 2021 with a projected year-over-year growth of 8.2% to 848.5 Moz with the biggest comebacks from Mexico, Peru and Bolivia. Mexico, particularly is expected to log strong numbers as new projects, such as Cerro Los Gatos, Juanicipio and Capela, ramp-up production rates. Recycling activity is anticipated to higher owing to higher silver prices. Thus, it is apparent that silver is headed for a deficit this year, which will prop up prices.
The long-term outlook for silver remains solid. Given numerous industrial applications for silver, particularly those pertaining to "green" technologies and 5G will continue to support demand for silver in years to come. Demand for silver in solar photovoltaic (PV) cells is surging as countries move toward adopting renewable energy sources. The Silver Institute estimates silver demanded from 5G to more than double to around 16Moz by 2025. By 2030, it will require around 23Moz — a 206% increase from current levels.
In the automobile industry, demand for silver will rise to 88 Moz in five years as the transition from traditional cars and trucks to EVs accelerates. Charging points and charging stations will also call for a massive amount of silver. Silver demand for "printed and flexible electronics" will grow 54% over the next nine years. Overall, with more countries now focusing on lowering carbon emissions, they will need more silver for electric vehicles, charging stations and 5G, and cables connecting new wind turbines and solar farms to the grid.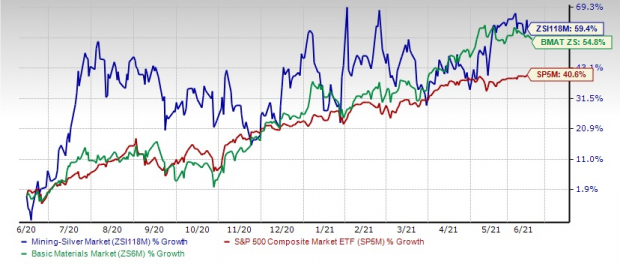 Image Source: Zacks Investment Research
In a year's time, the Mining – Silver industry has rallied 59.4%, outperforming the S&P 500's rally of 40.6%. The industry falls under the broader Basic Materials sector, which gained 54.8% in the same time frame.
4 Silver Stocks to Watch
Fresnillo plc (FNLPF – Free Report) : The Mexico-based company primarily explores for silver, gold, lead, and zinc concentrates. Its flagship project is Fresnillo silver mine located in the state of Zacatecas.
The company is investing in a number of projects to increase production and ensure steady growth in future years. Focus on improving operational performance and enhancing efficiency is expected to result in lower costs. Its high quality assets, ample mineral resources, competitive margins and disciplined approach to development will continue to drive growth.
The Zacks Consensus Estimate for the company's current-year earnings indicates year-over-year growth of 87.5%. The estimates have also moved up 3.7% in 90 days' time. The company's shares have gained 27.9% in the past year. It currently carries a Zacks Rank #3 (Hold).
Hecla Mining Company (HL – Free Report) : This Coeur d'Alene, ID-based company, together with its subsidiaries discovers, acquires, develops, and produces precious and base metal properties in the United States and internationally.
The company has a diverse asset…


Read More: Silver to Gain on Demand & Supply Imbalance: 4 Stocks to Watch – June 15, 2021