The 2020-21 NBA season is just around the corner. For avid basketball card collectors, this signals a fresh influx of rookies to enter the league. And of course, a new set of rookie cards. But the card collecting season for 2019 isn't over just yet. 2019-20 Panini Flawless, one of the most sought after card sets out there is still up for grabs. Here's everything you need to know about the upcoming release, straight from Panini's sneak preview.
While no hard details have been confirmed, the tentative date being floated around is for December 11, 2020. The price range meanwhile, seems to be set hovering around $5,500 – $6,000 for a sealed Panini Flawless Hobby Box.
First, let's check out the preliminary designs sent out by Panini. As the headliner of the past draft, it's only fitting to have New Orleans Pelicans star and first overall pick Zion Williamson gracing the cover.
2019-20 Flawless Basketball Hobby Box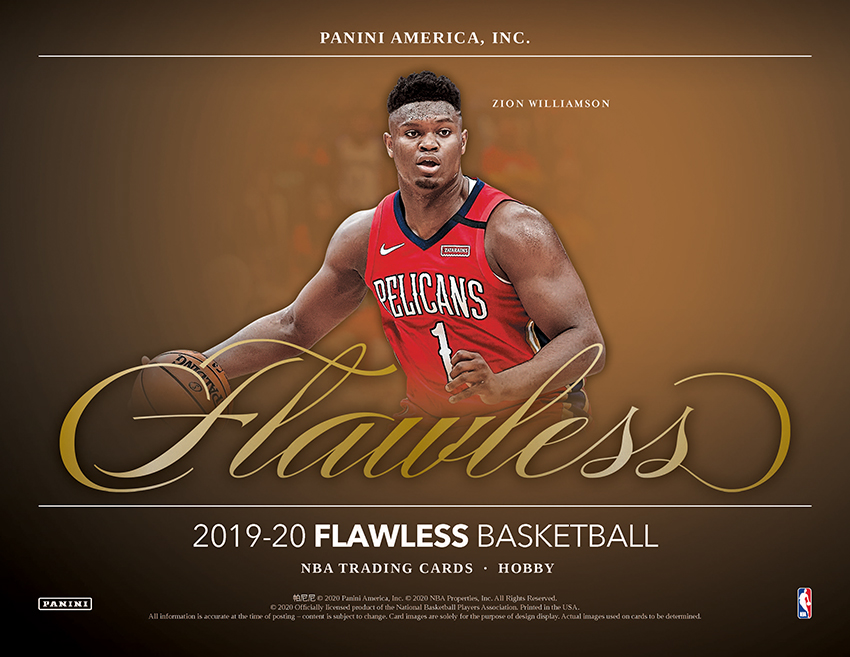 Product Configuration: 10 cards per box, two boxes per case.
BOX BREAK: Eight (8) autographs, one (1) memorabilia card, one (1) Diamond card.
As is tradition with Panini Flawless, the signature aspect would be the base cards that feature an actual diamond embedded within the card itself. Here are the shots of the base cards from the gorgeous, dare we say Flawless product:
Here's Memphis Grizzlies star Ja Morant featured on the base rookie card, which is numbered to 20. New York Knicks guard RJ Barrett showcases the gold base rookie card. And here we have the card of everyone's dreams. New Orleans Pelicans star Zion Williamson found on the 1/1 Platinum base card.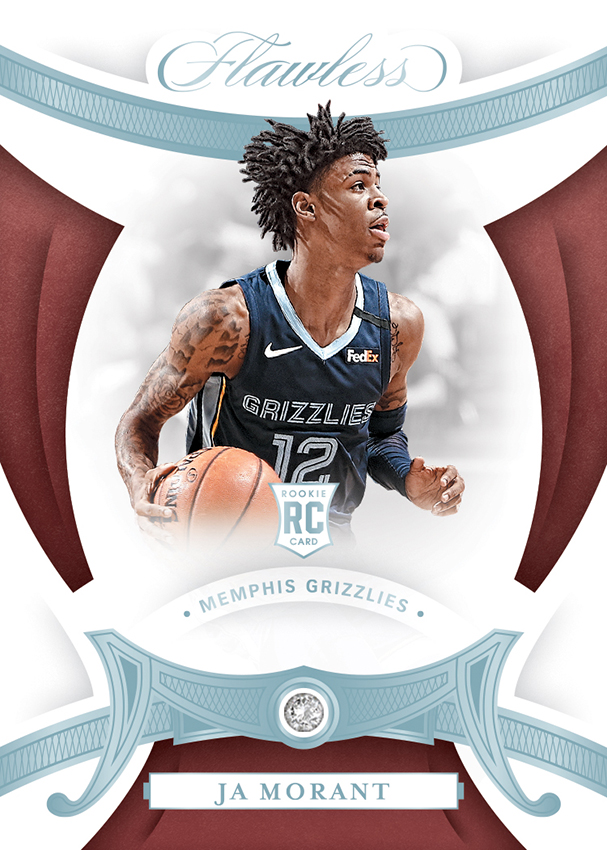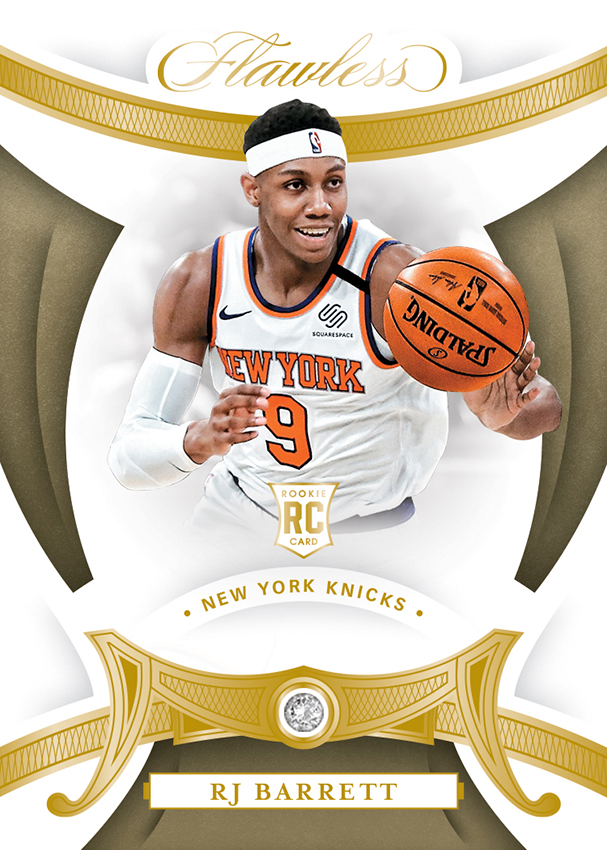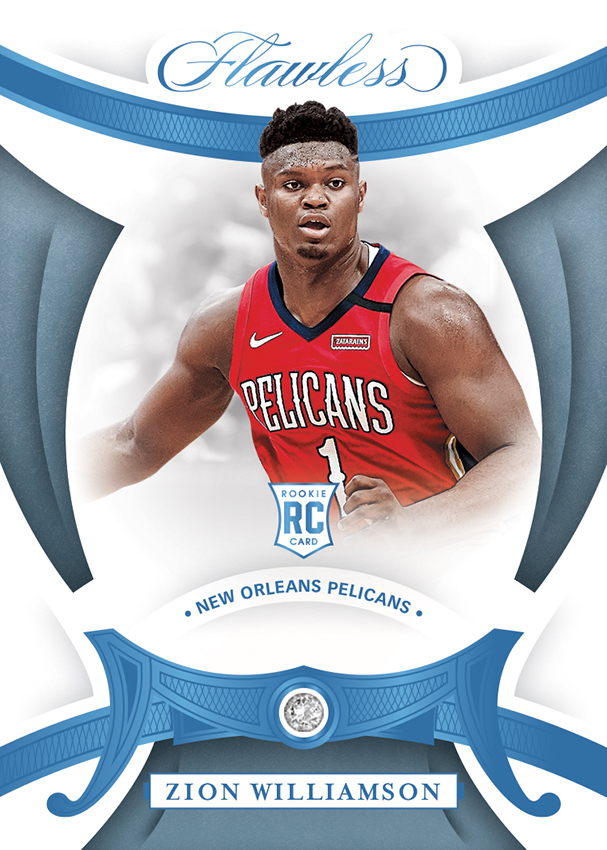 With the pretty hefty price tag that it carries, it only makes sense that there's no shortage of player autographs from the Panini Flawless product. As mentioned, each hobby box contains eight (8) autographs from both veterans and rookies.
Atlanta Hawks star Trae Young is featured here on the horizontal autographed Flawless Finishes Ruby card. Next to him would be the rookie autograph in clean blue which represents the platinum 1/1 variant of Miami Heat rookie Kendrick Nunn.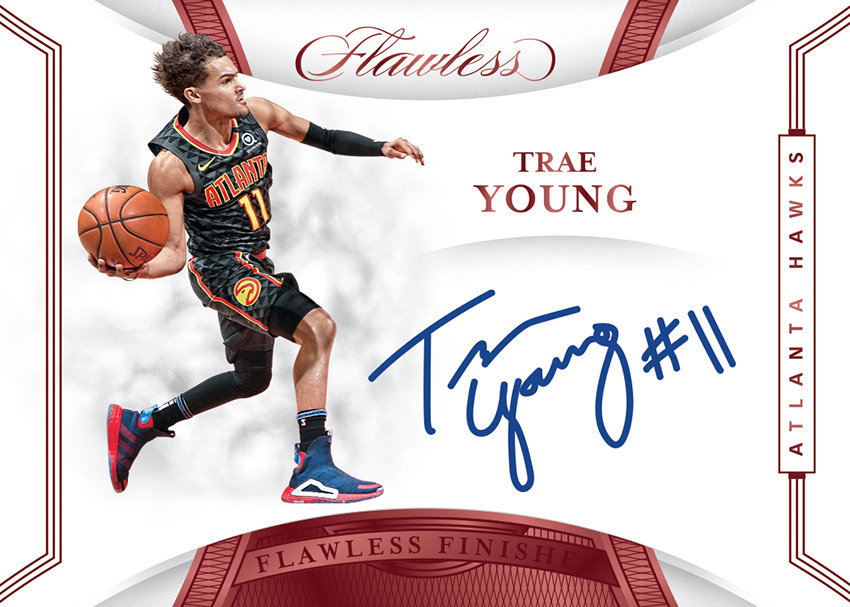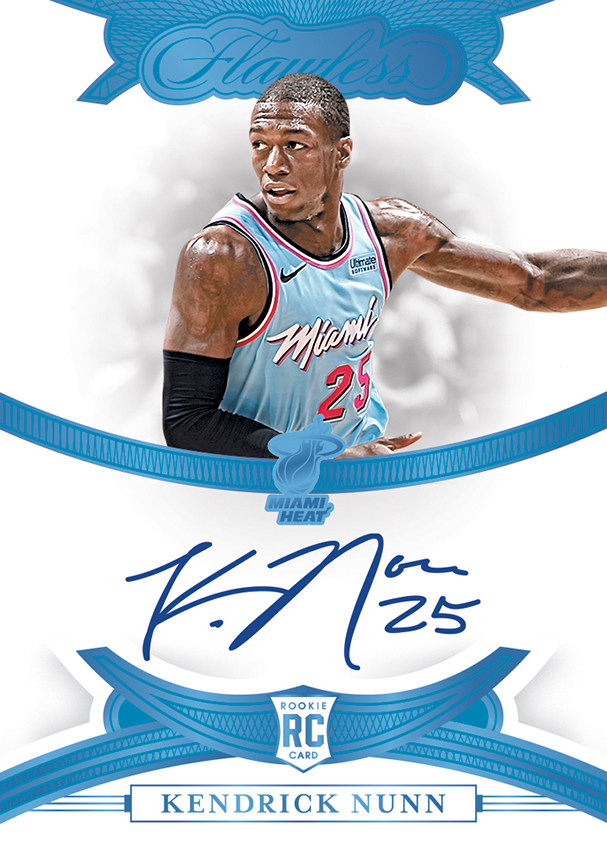 What makes the Flawless product so special is that it features the first set of cards with actual game-worn swatches from the year's outgoing rookie class. The collection of special variants of game-worn material's in Panini Flawless is arguably second to none. Part of the available patches include the always sought-after laundry tag patches and of course the logoman autograph. Here's Anthony Davis and Stephen Curry featured for both cards below: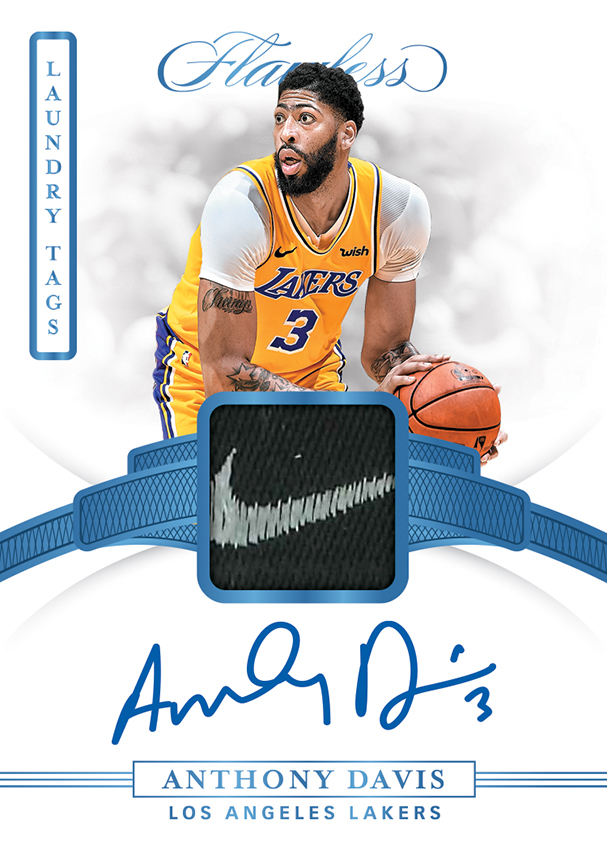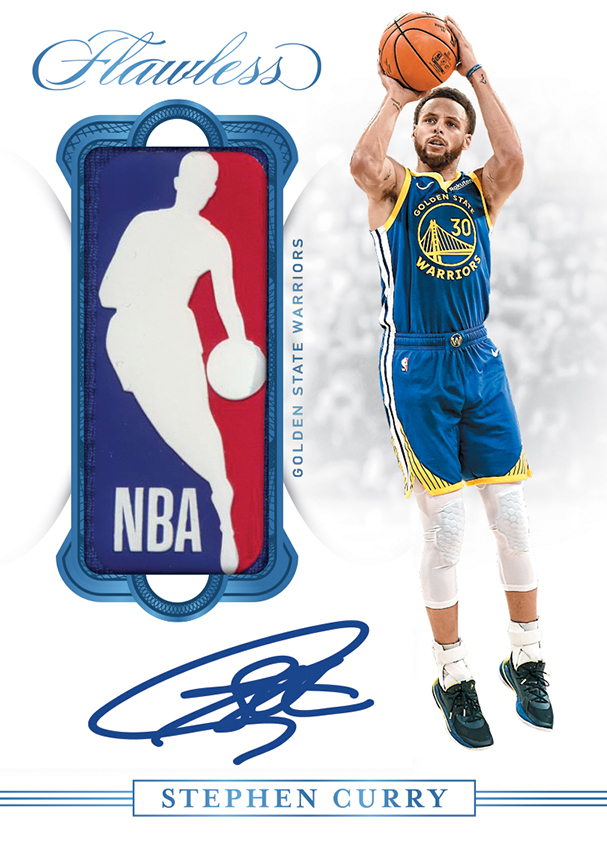 One unique patch for the Panini Flawless set would be the championship tags. Seen below for Bucks MVP Giannis Antetokounmpo would be the #1 championship tag representing the Milwaukee franchise, which won one title under Lew Alcindor in 1971. Dwyane Wade meanwhile is featured with his three championship wins under the Miami Heat franchise in 2006, 2012, and 2013.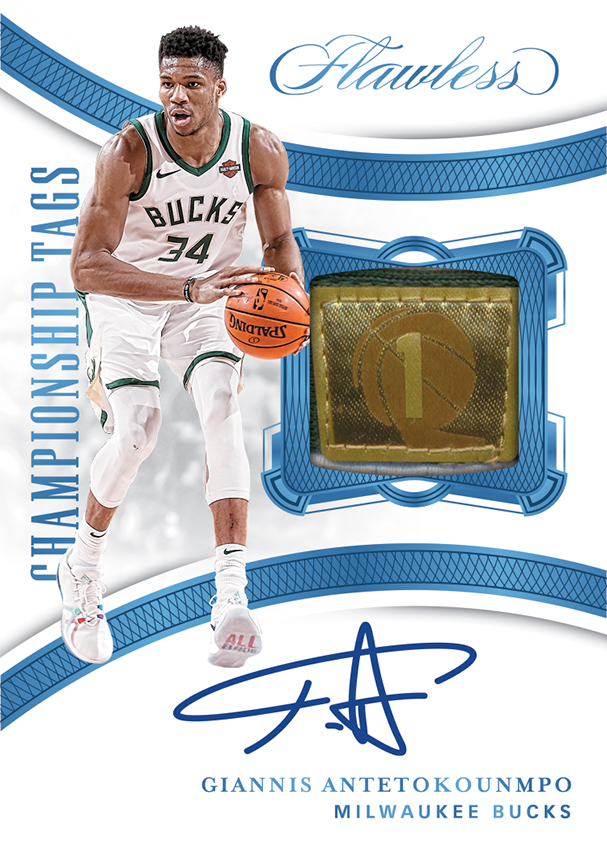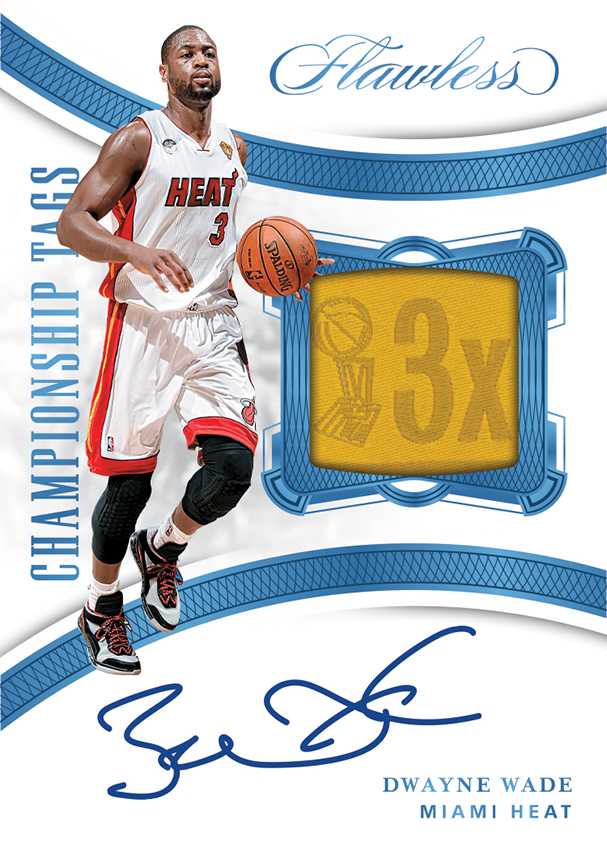 This year's Flawless set also has the Star Swatch Signatures as well as the Signature Prime Materials. Shown below is Charles Barkley with his Star Swatch and autograph card, fittingly as a member of the Phoenix Suns.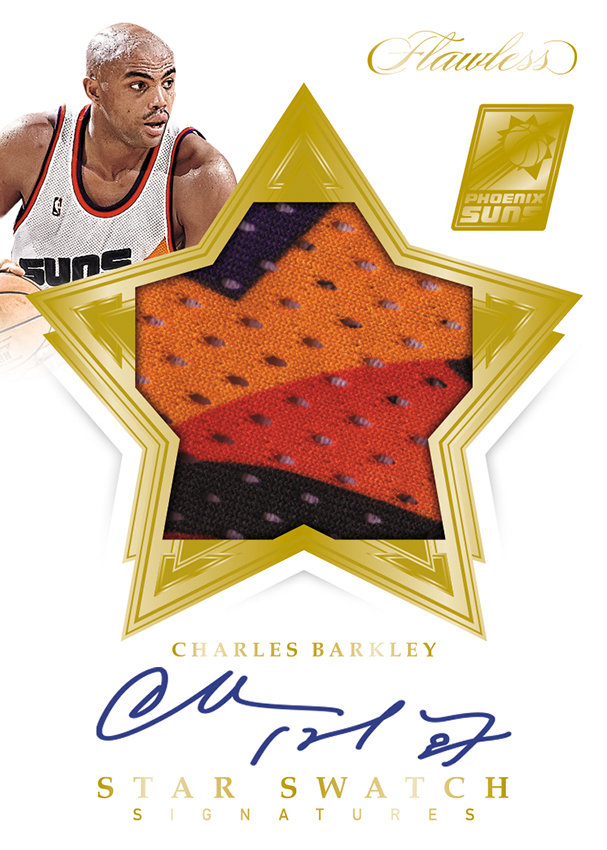 1st Off The Line Premium Edition Exclusives
Product Configuration: 11 cards per box, two boxes per case.
BOX BREAK: Eight (8) autographs, one (1) memorabilia card, two (2) FOTL Exclusive Bronze Parallel Diamond cards numbered to /3
As with all First Off The Line boxes, Panini Flawless FOTL has some exclusive cards. Aside from getting an additional card (10 vs. 11) compared to the Hobby Box, Flawless FOTL has the exclusive Bronze Parallel Diamond cards numbered to just three (3). The variant appears for veteran base cards (Giannis Antetokounmpo), rookie cards (Zion Williamson), and legends as well (Kevin Garnett).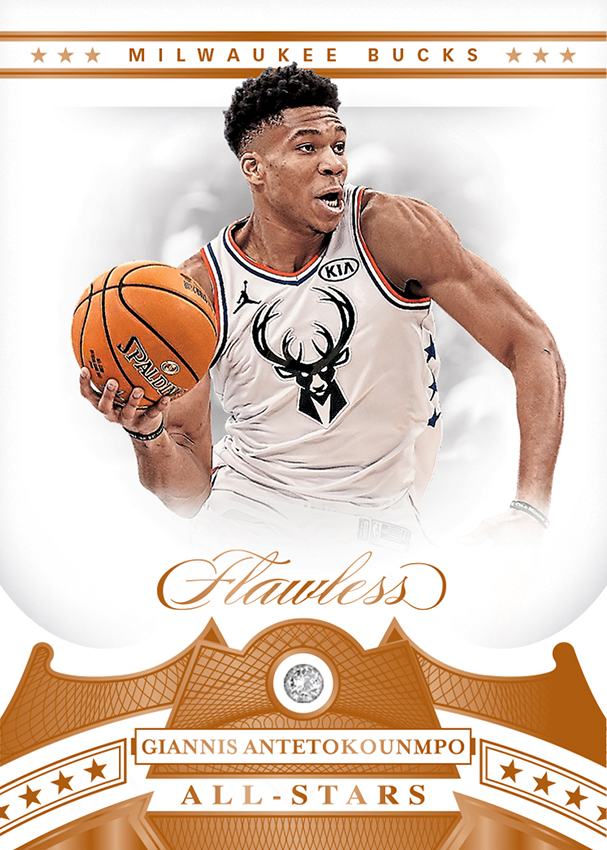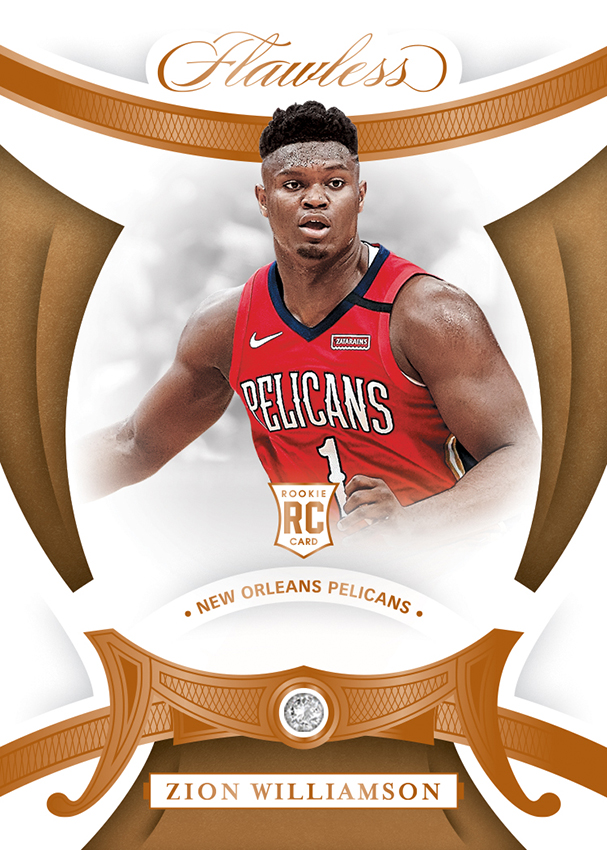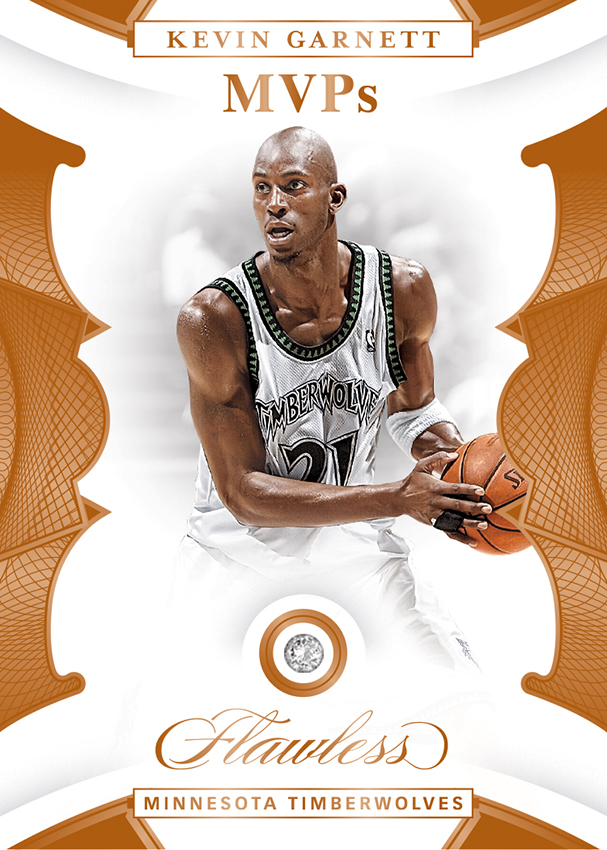 The 2019-20 Panini Flawless set looks to be another gem across a wonderful season of cards. While the boxes may cost a pretty penny, they may very well be worth forking out for, both as a collector or as someone who's looking for a quality product to invest in for the nearer future.
The beloved hobby of card collecting has reached an unprecedented boom in the past year. This season's selection of cards has been dealt with a crazy amount of demand, sky-high soaring prices, but most importantly a renewed love for the hobby.
With a draft class as special as this one, with possibly generational talent in Zion Williamson, Ja Morant, and Tyler Herro, taking the risk for some of their premium cards may possibly pay off if you're able to nab some of their memorable cards.
The 2019-20 Panini Flawless marks the looming end for possibly the best season run of the card-collecting hobby in a long time. Despite the hefty price tag, this…


Read More: Everything you need to know about Panini Flawless' December release